WELCOME TO UNITED INTERIOR OFFICE FURNITURE
Re-furbished
Where you decide to put down roots is one of the most important decisions you'll ever make.
Pre-owned
There has never been a better time than now to find the perfect location for your business.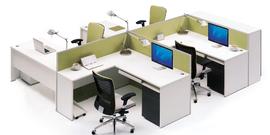 New
Let us go to work for you. Start by searching our list of available office furniture
welcome to U I office furniture distributors
Office furniture should create working spaces that motivate employees and boost their productivity. We understand how important purchasing the right furniture for your office is. At United Interior Office, we know that you have to make the right choices for your office furniture. Our goal is to help businesses in Central America, South Florida, Caribbean and South America create more productive and economical workplaces that use sustainable and green office furniture that promotes comfort and productivity.
We work with you to provide office furniture solutions that meet your needs and budget. We have been in business for 20 years and have completed thousands of furniture projects for our clients. Whether you're looking for brand new furniture or something that will let you save, we have it here. We offer pre-owned and refurbished office furniture, but you are assured of its quality.

Corporate office
————————————————-
Call center
————————————————-
Small businesses 
————————————————-
————————————————-
Quality and Affordable price
Quality and Affordable Price
Office furniture is an important part of any working environment. It contributes to making the office a happy and healthy place for employees and clients. Different work environments require different office furniture, but one thing's for sure. It should help the employees work efficiently and boost their productivity.
Modern furniture can create a space where employees can change between collaborative work and individual projects with ease. Workstations are no longer limited to the conventional rectangular shape. Conference tables and desks are now available in various designs. File storage areas can serve as room dividers and separate areas without making the place look too big or too small. Couches and chairs are now adjustable and more comfortable to use. Today's office furniture has accessories that make employees' job easier to do. Custom mounting for laptops and computers as well as keyboard and monitor supports have become essential parts of offices today.
Outfitting an office is very important. We understand that every company has unique needs for the area where the staff will perform different functions. It can be hard to create an office environment that can promote productivity and inspire creativity among employees. With today's modern office furniture, outfitting any workspace is easier.
At United Interior Office, we continue to seek new ways to improve our products to help offices transform their working environment into an inspiring and exciting location. Our selection of office furniture is the perfect combination of affordable price and quality.
Why Choose United Interior Office?
Quality
Expect our office furniture to provide the durability and comfort you need.
Customer Support
We are available 24/7 to answer your questions.
Reasonable Prices
We offer office furniture solutions for all budgets.
Vast Selection
Whether you're looking for chairs, sofas or cubicles, we have a wide selection of office furniture for you to choose from. Maybe you want to buy new desks for your office, but you're short on budget. Don't worry! We offer affordable and high quality re-refurbished and pre-owned office furniture. We have done all quality tests to ensure that only the best is provided to you.
United Interior Office is your one-stop shop for your office furniture needs!
Download our NEW catalogs